Wednesday 13 July
from 14:00 CEST until 12:00 noon on Thursday 14 July
Anne-Laure Sotin & Izabela Matoš
Sound weavers
Along the river Loire, between Tours, Nantes, and Saint-Nazaire (in France). Eleven sound artists tell their stories, questions, sensitivity. As time goes by, comes a weave made of words, noises, sounds, histories, voices... The weaving is as delicate as a bird feather and as heavy as a cathedral bell; shinny like the sun and dark like the night on mountain.
From dreams to nightmares, walk on the beach, walk in the city, concert in the cave, improvised performance in the living room, listening to the silence or the deafening noises of the shipyards, from the sweet and sunny kitchen to the fresh seaside, as time goes by, a funny weave appears. A cloth which takes different shapes, sometimes it's a warm cover, plenty of our dreams, that protect us, other times it's a magical carpet that carries us far away. Even sometimes it becomes a shelter for the night, where we can watch the stars.
Weaving is a composition game, each sound-craftswomen rolls a different thread, tinted with navy-blue, green-leaves, yellow-sand, concrete-gray or red-passion... In the weaving, some thread are doing knots. We listen and touch those threads more or less strained and those completely loose, which levitate in the air, like an echo. It is not something that has been, it is not something that is happening now and it's not something which will be. The whole is echoing.
«It all boils down to a question of words, I must not forget this »
Samuel Beckett, Theunmanable.
« Sound weavers » mixes voices, recordings and creations of Sarah Clénet, Anne-Line Drocourt, Isabelle Duthoit, Erell Latimier, Soizic Lebrat, Anne-Laure Sotin, Izabela Matos, Sylvie Noël, Yuko Oshima, Aude Rabillon, Claire Veysset, Rosa Parlato.
Nous sommes au bord de la Loire, entre Tours, Nantes et Saint-Nazaire (France). Onze créatrices sonores dévoilent leur histoire, leurs questionnements, leur sensibilité. Au fil du temps qui passe, se créé un tissage de mots, de bruits, de sons, d'histoires, de voix... La trame de ce tissage est aussi légère qu'une plume d'oiseau et aussi lourde qu'une cloche de cathédrale ; délicate comme un pétale de tulipe et fort comme une chaîne de titane ; brillante comme le soleil de midi et sombre comme une nuit de montage.
De rêveries, à cauchemars, de promenade sur la plage, à déambulation dans la ville, d'un concert dans la cave, à une performance improvisée au salon, d'une écoute du silence, au bruits assourdissants des chantiers navals, du cocon de la cuisine ensoleillée, à la fraicheur du bord de l'océan, au fil du temps qui passe, se tisse une drôle d'étoffe. Une toile qui se transforme tantôt en couverture chaude, protectrice, imprégnée de nos rêves, et tantôt en tapis magique, qui nous transporte vers des contrées lointaines. Et parfois même, cette toile devient un abri pour la nuit qui nous permet de regarder les étoiles.
Le tissage est un jeu de compositions, chaque artisanes du son déroule un fil différent, teinté de bleu mer, de vert feuillage, de jaune sable, de gris béton ou de rouge passion... Certaines parties du tissage sont des nœuds. Nous écoutons et touchons ces fils plus ou moins tendus et ceux complètement détendus, qui lévitent librement dans les airs, similaires à un écho. Ce n'est pas quelque chose qui était, ce n'est pas quelque chose qui est maintenant, ce n'est pas quelque chose qui est en préparation. C'est l'écho de l'ensemble.
« Tout se ramène à une affaire de parole. Il ne faut pas l'oublier. »
Samuel Beckett, L'innommable.
« Les tisseuses de son » mêle les voix, enregistrements et créations de Sarah Clénet, Anne-Line Drocourt, Isabelle Duthoit, Erell Latimier, Soizic Lebrat, Anne-Laure Sotin, Izabela Matos, Sylvie Noël, Yuko Oshima, Aude Rabillon, Claire Veysset, Rosa Parlato.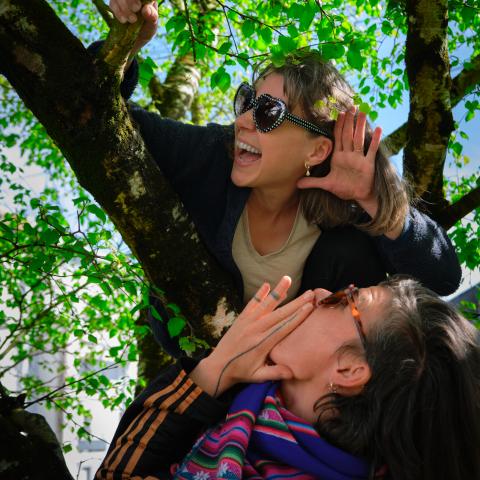 Anne-Laure Sotin Lejosne is a sound artist, field-recording, collecting voices, sound-fishing anywhere, mixing noises for radio shows, lives, or performances. After 10 years working for Jet FM and the Sonor festival, she continues her sound art experimentations (radio fiction, documentary, web-documentary, sound creation for theatre or musical shows...). Since 2006, she has been practicing binaural recordings for music, theatre or field recordings. In 2016, the project BACH TO 3D was born and thanks to it, she could explore more deeply this immersive way of catching sounds. This project is still going on, and more recently she takes part in EX SITU, a musical band including the voices of residents in their show. Besides she likes to do radiophonic workshops with children in order to transmit how fun it can be to do art using their own voices, daily sounds etc...
Izabela Matoš is a visual artist graduated from the Academy of Fine Arts in Belgrade. Born in Dubrovnik (now Croatia), Izabela spent her childhood in Herceg Novi in the Bay of Kotor in Yugoslavia (now Montenegro). Her curious explorer spirit led her to travel to enrich her artistic work. Izabela practices printmaking and is interested in the book as an artistic object as well as yarn and textile forms. Her works are inhabited spaces, which give us to see, in images, sometimes in words, in sounds, but also in volumes, or in gestures, being in nature, femininity, intimate places. As a multidisciplinary artist, Izabela has a strong personal, unusual, and poetic vision of things. Contrary to the trend of contemporary art towards analysis, Izabela, through her nomadic spirit, eager for large spaces, enriches reality and invokes an aesthetic and poetic experience. With her works, in different techniques – drawing, painting, engraving, embroidery, sound creations – Izabela invests the material. By her technique and her manual skill, she leads us into nature, organic. The creative process becomes a feminine ritual in which emotions, history, and despair are embroidered. Her voice built its bases by singing with Melodi choir with Divna Ljubojevic in Belgrade. Since then her voice became one of the most important tools of her creation. Exploring it every day she found the healing element in it. At the end of 2018, she embarked on sound creation for the independent radiostation Jet FM in Nantes. And since then she has created sound spaces to envelop her artworks. She lives in Saint-Nazaire.