Wednesday 14 September
from 14:00 CEST until 12:00 noon on Thursday 15 September
D'Kréiennascht
Héiergebées mat Kréieféiss
"D'Kréiennascht" is a young Luxembourgish art collective founded in 2019 and based in Pétange. Our main focus is the organization and exhibition of concerts and art events featuring local and international alternative visual artists, writers, performers and musicians.
Originating from years of friendship, a part of the collective's current members has been organising alternative concerts for over ten years. A few years ago, we decided to found a non-profit association and continue to execute our passion and - as for now - are especially known for our annual garden festival: "Feier-fest". Due to the pandemic most events and also the festival had to be cancelled over the last two years.
For Radio Art Zone we aim to present our work as a Luxembourgish interdisciplinary art collective. This radio artwork consists of individual short radio plays by different members, as well as experimental sound art pieces created together as a collective. Ranging from "Sounding Research" to satirical "Weltschmerz", surrealistic journeys and sonic documentaries.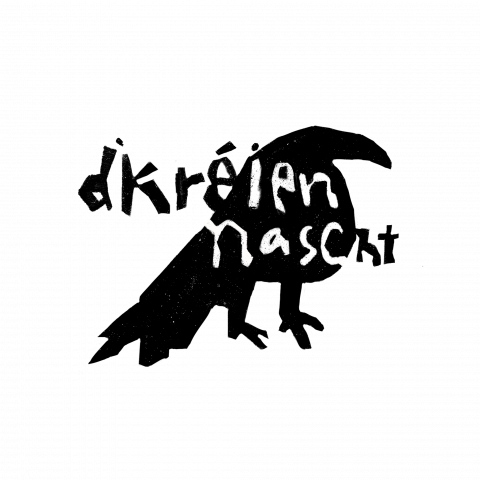 Arnaud Morao is a social worker, helps to run a forest kindergarten in Luxembourg and accompanies children from the age of two to four. He is a self-taught musician who uses aerophonic instruments and his voice as a medium. His main tasks in this collective are music making, crafts and acting. In his piece he will tell a sonic story with his (self-made) whistles in combination with vocal elements. His passion for voice-over and storytelling will also be heard in other performances of this radio artwork.
Bob Erpelding is a multimedia artist based in Luxembourg. For Esch22 he is presenting his art installation "e luest an onbemierkt'n Ausstierwen vum Versteesdemech" at Metzeschmelz, Esch-sur-Alzette. That exhibition is located between Schifflange and Esch-sur-Alzette on a postindustrial factory site and it is curated by Cueva ASBL. radio artwork functions as artistic documentary about researching, processing and reproducing a visual-based installation into a sonic artwork. The installation can be visited from March until October 2022 Boulevard Aloyse Meyer L-4241 Esch-sur-Alzette, Luxembourg.
David Kartheiser is a music producer, former band member of "A decade to silence", member of "Argon", and son of the Luxembourgish blues legend Snoop Kartheiser. As a musician with over fifteen years of experience in music, he played in various bands experimenting with different genres such as screamo, punk, rock and crust, as well as funk, blues and blue note. Over the years he has collected a whole arsenal of different effects pedals for bass and guitar with the purpose of elaborating his sound design. For Radio Art Zone, he has set out to take listeners into his sound lab and introduce them to the various approaches to sound design, different modulation effects, and his most famous area, distortions. So sit back and enjoy the journey into the sound lab.
David Winter is a Luxembourgish Radio Journalist. As a teenager, he started presenting on Ara Radio. After studying political science in Innsbruck, he worked as a freelance reporter for Radio 100.7, Eldoradio and RTL and got to know radio from the journalistic side. Later, he also helped to develop entertainment programmes for public radio and television stations. This resulted in a podcast with Ben Olinger that ran for two years and published radio plays such as "De Feierstorch". His essential role in this radio art project is his creative way of shaping radio and journalism and also giving free rein to his satiric stories.
Elif San is a literary scholar and performative poet. She writes, reads and teaches between Luxembourg, Vienna and Latin America. Performance and voice play a major role in her poetry, which she describes as "parlandotone-like word carnage" and "mental sauna". She performs her texts solo or in collaboration with visual and sound artists, preferably in public spaces on various stages or digitally in the form of radio plays. For this project, she will show various poems and lyrical prose from her latest works. She will also present pieces from her joint duo "Annah" with Sam Erpelding. A lyrical electro-acoustic journey through post-apocalyptic and dystopian worlds. Besides this she will also add her voice through storytelling to various pieces. in this radio artwork.
Jeremi Witte is a musician and social worker. He studied science of education in Vienna and works now as a social worker in Vienna. Since 2009 he has played in several rock & blues bands and given concerts, also as a solo electronic artist. As a co-founder and drummer of the Luxembourgish post-hardcore band "Argon", as well as co-founder of "d'Kréiennascht", his passion for electronic and acoustic music production, as well as for story telling, will be the main force in this radio artwork.
Sam Erpelding is a sound-engineer and sound-artist from Luxembourg based in Vienna and member of the band "Argon". He is currently doing his Phd in Ecoacoustic Research and Composition at the Anton Bruckner University in Linz. He will present a journey through wildlife soundscapes, sonification of spectro-temporal dynamics and ecological diversity. The radio artwork will present soundscape recordings from the National Park Kalkalpen and Donau-Auen in Austria from spring 2022. These soundscapes are about recognising the sounds of the wilderness, its fluctuations and subtle nuances, and understanding fragments of extinction in our noisy world. Tranquility and deep listening are a need for the heritage of our fragile natural sonic environment. As president of this collective he curates "Héiergebées mat Kréieféiss" and will leave his sonic footprint in various pieces.
Tom Wagner is a pianist and organist and works as consultant and salesman at the piano shop "Kelly" in Luxembourg. He has worked as narrator and storyteller for various projects in the collective. In this radio artwork, he will present some self-written pieces related to the artistic exploration of piano acoustics and socio-musical behaviour of dipsomania in Luxembourgish culture. As an important narrator and script guide, his presence will be a main colour of this radio artwork.
Xuan Nguyen is a Luxembourgish visual artist and, more recently, a writer. From her current work, she will present "Mực Trắng" (Vietnamese for white ink), a literary work about hate and love, conflicts and friendships between inter-social cultures. Her radio artwork will take the listener on a journey through her narratives, which will be coloured by musical-poetic expressions made by members of the collective.