Wednesday 17 August
from 14:00 CEST until 12:00 noon on Thursday 18 August
Das SENSORium baut auf dem Radio Cyborg Transmitter RCT auf, der in Graz von Mitte 2020 bis Mitte 2021 in unterschiedlichen Kontexten eingesetzt wurde und wird, v.a. um Radiokunst in den Öffentlichen Raum zu bringen, und als klangliche Wahrnehmungsschnittestelle der Stadt Graz zu dienen. Am SENSORium sind Sensoren zur Umgebungsmessung wie Geigerzähler und Strahlung allgemein, Temperatur oder Luftfeuchtigkeit und auch Feinstaub angebracht. Diese Sensoren liefern Daten in Echtzeit, die mittels PureData entweder direkt in Klang (Oszillatoren, Granularsynthese etc) umgewandelt werden oder indirekt als Auslöser dienen für andere, steuerbare Ereignisse (weitere Kompositionen, Lichtsteuerung, Lautstärke, usw.)
Die live gemessenen Daten werden in Klang umgesetzt und so wird die konkrete Umgebung hörbar: eine ganz neue Form von Klanglandschaft entsteht und Information, die uns Menschen mit unseren Sinnen gar nicht oder nur sehr eingeschränkt zugänglich wäre, wird sinnlich erfahrbar. Das SENSORium wird so zum klanglichen Sensorium für die ZuhörerInnen und ermöglicht in der Umsetzung als Audiostream die Wahrnehmung der Umgebung auch aus der räumlichen Distanz. Alle Softwareschnittstellen werden mit Python und PureData umgesetzt, dh alles wird in freier Software programmiert und kann und soll daher auch von anderen verwendet und weiterentwickelt werden. Parallel zum Audiostream sollen zusätzlich die direkten MQTT-Sensordaten über einen mit Passwort geschützten Port am Computer online zur Verfügung stehen, sodass ich selbst die Möglichkeit zur Code-Erweiterung habe und ausserdem weitere KünstlerInnen Zugriff darauf haben und so weitere Kompositionen entstehen können.

Der Radio Cyborg Transmitter RCT wurde vom esc medien kunst labor Graz im Rahmen des Graz 2020 Kulturjahres produziert, Konzept: Reni Hofmüller
The SENSORium is based on the Radio Cyborg Transmitter RCT, which was and is used in Graz from mid-2020 to mid-2021 in various contexts, mainly to bring radio art into public space and to serve as a sound perception interface for the city of Graz. At the SENSORium there are sensors mounted for measuring the environment such as Geiger counter and radiation in general, temperature or humidity and also fine dust. These sensors provide data in real time, which are either directly converted into sound (oscillators, granular synthesis, etc.) or indirectly serve as triggers for other controllable events (compositions, light control, volume, etc.)
The data measured live is converted into sound and thus the concrete environment becomes audible: a completely new form of soundscape is created and information that would be inaccessible or only very limited to us humans with our senses becomes sensually perceptible. The SENSORium thus becomes a sonic sensorium for the listener and, when implemented as an audio stream, enables the perception of the environment even from a spatial distance.
All software interfaces are implemented with Python and PureData, i.e. everything is programmed in free software and can and should therefore be used and developed further by others. Parallel to the audiostream, the direct MQTT sensor data will also be available online on the computer via a password-protected port, so that I myself have the possibility to extend the code and other artists have access to it and thus further compositions can be created.

The Radio Cyborg Transmitter RCT was produced by esc medien kunst labor Graz in the context of the Graz 2020 Cultural Year, concept: Reni Hofmüller
"I want freedom, the right to self-expression, everybody's right to beautiful, radiant things." Emma Goldman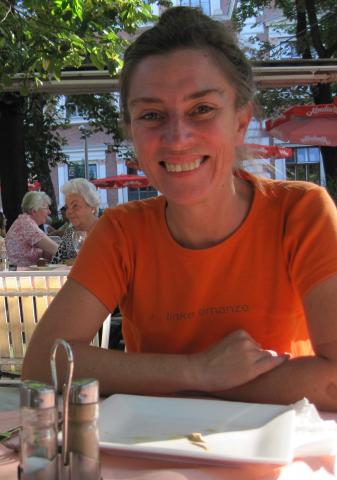 Reni Hofmüller
Ich bin Medienkünstlerin, arbeite hauptsächlich mit Klang (Live-Performance, Installation, Radiokomposition) und beschäftige mich seit langem mit Raum.
Das umfasst physischen Raum wie das esc medien kunst labor Graz, in dem ich seit seiner Gründung 1993 in der Programmkonzeption, -gestaltung, -planung und auch in der Vermittlung dieses Programms tätig bin. Im esc medien kunst labor konzentrieren wir uns auf Kunst im technologischen Zusammenhang. Das umfasst auch die Auseinandersetzung mit Öffentlichem Raum als Gesellschaftsprojekt und Ort für künstlerische Intervention.
Darin eingebettet und gleichermaßen wichtig ist medialer Raum, in meinem Fall Radio und Internet, incl. Auseinandersetzung mit digitalen Werkzeugen. Hier beschäftige ich mich primär mit Konzepten freier Software, Open Source und offene Hardware.
Ich war sowohl bei Radio Helsinki, dem freien Radio in Graz, als auch bei mur.at (Plattform zur nichtkommerziellen Nutzung des Internets für Kunst- und Kulturschaffende) maßgeblich an der Entstehung beteiligt und bin dort immer noch aktiv.
DIY Künstlerin, Musikerin, Komponistin, Performerin, Organisatorin, Kuratorin und Aktivistin im Bereich (Neuer) Medien, Technologie, Feminismus und Politik, Beschäftigung mit Freier Software und Open Hardware
Reni Hofmüller
I am a media artist, working mainly with sound (live performance, installation, radio composition) and have been involved with space for a long time.
This includes physical space such as the esc medien kunst labor Graz, where I have been involved in programme conception, design, planning and also in the mediation of this programme since its foundation in 1993. At esc medien kunst labor we concentrate on art in a technological context. This also includes the examination of public space as a social project and a place for artistic intervention.
Embedded in this and equally important is media space, in my case radio and the internet, including an examination of digital tools. Here I am primarily concerned with concepts of free software, open source and open hardware.
I was significantly involved in the development of Radio Helsinki, the free radio in Graz, as well as mur.at (a platform for non-commercial use of the internet for people working in the arts and culture), and I am still active there.
DIY artist, musician, composer, performer, organiser, curator and activist in the field of (new) media, technology, feminism and politics, working with free software and open hardware.