Wednesday 21 September
from 14:00 CEST until 12:00 noon on Thursday 22 September
Florencia Curci & Investigaciones del Futuro
Karukinka
Karukinka is a radio choreography -the result of the relation of a score of fire, bodies, space, time and memory- that explores multiple dimensions of the sense of distance.
*Things that fire brings together.*
During the last summer in Argentina, I repeatedly found images of the fire on the front pages of newspapers. Most of the news was referred to forest fires, some others to street protests.
During the last winter, I had invited a group of people to participate in a series of meetings under the title "Warming listening, melting distance". There, around campfires, we proposed experiences that tended relationships between heat and sound. Heat, like sound, are volumes with diffuse edges that radiate and transform bodies, occupying the space between. They set the scene, an ambient.
Between the covers of newspapers and incendiary television channels, one day, lost on the web, I found NASA's FIRMS (Fire Information for Resource Management System) project: a map that shows thermal anomalies around the planet in hyperreal time.
I saw a red planet.
Time flowing.
A force.
A possibility of approaching the fire far from the notion of catastrophe. It was in this derive that Karukinka appeared.
Karukinka is the name that the people who inhabited what currently occupies the Argentine province called Tierra del Fuego gave to their territory.
KAR: extreme, very
HUHIN: land, ground
KA: own, ours
On a tape, Angela Loij recounts the story of Karuk, telling how people came chasing guanacos and an earthquake left them confined to the island. Karuk is the edge, the extreme, the far.
In Karukinka, I will be away. I'm going to broadcast live a 22-hour campfire, lit somewhere in Argentina. An installation of FM radios will play field recordings, songs, stories. A live radio choreography, scripted by fire, that cannot be rehearsed without realizing. Maybe some friends will come with the things that fire brings together.

smoke signals
transmit
the fire too
gathers
teaches
tender ways to burn
Note: the live broadcast included recordings of the "warming listening. melting distance" meetings that took place at Investigaciones del Futuro in 2021:
Grabriela Areal - Blandiri
Federico Barabino - warming listening
Alan Courtis - microconcert

and samples of Selk'nam chants of Tierra del Fuego, Argentina.
Karukinka es una coreografía radiofónica -el resultado de la relación entre una partitura de fuego, cuerpos, espacio, tiempo y memoria- que explora múltiples dimensiones del sentido de la distancia.
*Cosas que el fuego junta.*
Durante el último verano en Argentina, encontré, repetidas veces, imágenes del fuego en las tapas de los diarios. La mayoría de las noticias se debían a incendios forestales, algunas otras a protestas callejeras.
Durante el último invierno, había invitado a un grupo de personas a participar de una serie de encuentros bajo el título "Calentar la escucha, derretir la distancia". Allí, alrededor de fogatas, propusimos experiencias que tendían relaciones entre el calor y el sonido. El calor, como el sonido, son volúmenes de bordes difusos, que irradian y transforman los cuerpos, ocupan el espacio que está entre. Ambientan.
Entre tapas de diarios y canales de televisión incendiarios, un día, perdida en la web, encontré el proyecto FIRMS (Fire Information for Resource Management System) de la NASA: un mapa que muestra en tiempo hyperreal las anomalías térmicas en todo el planeta.
Ví un planeta rojo.
El tiempo transcurrir.
Una fuerza.
Una posibilidad de aproximarnos al fuego lejos de la noción de catástrofe. En esa búsqueda fue que apareció Karukinka.
Karukinka es el nombre con el que se referían a su territorio las personas que habitaban lo que actualmente ocupa la provincia argentina llamada Tierra del Fuego.
KAR: extremo, muy
HUHIN: tierra, terreno
KA: propia, nuestra
En una cinta magnetofónica, Angela Loij relata la historia de Karuk contando que las personas venían persiguiendo guanacos y un terremoto las dejó confinadas en la isla. Karuk es el borde, el extremo, lo lejano.
En Karukinka, voy a estar lejos. Voy a transmitir en vivo una fogata de 22 horas de duración, encendida en algún lugar de la Argentina. Una instalación de radios FM reproducirá grabaciones de campo, cantos, relatos. Una coreografía de radios en directo, guionada por el fuego, no puede ensayarse sin hacerse. Quizás vengan algunas amigas con las cosas que el fuego junta.

señales de humo
transmiten
el fuego también
reúne
enseña
formas tiernas de arder
Nota: en la transmisión en vivo se incluyeron grabaciones de los encuentros "warming listening. melting distance" que tuvieron lugar en Investigaciones del Futuro en 2021:
Grabriela Areal - Blandiri
Federico Barabino - calentar la escucha
Alan Courtis - microconcierto

y samples de Selk'nam chants of Tierra del Fuego, Argentina.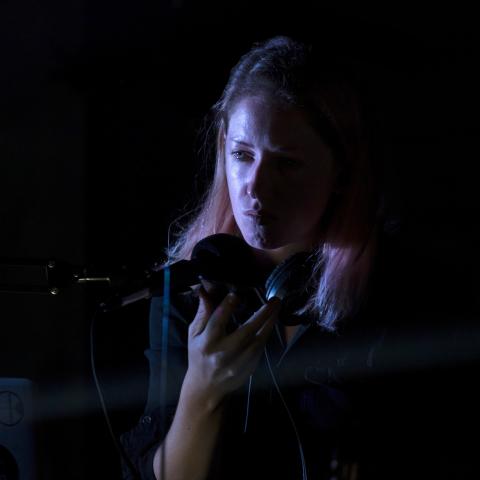 Florencia Curci lives and works in Argentina as a sound and radio artist, performer, and curator. Postgraduate in Expanded Music at the UNSAM University with the project "The broken tool", a research on non-human listening. Since 2017, FC is the Director of CASo (Sound Art Center), an institution dependent on the Ministry of Culture of Argentina promoting artistic research on sound, experimental music, and social acoustics. There, Radio CASo was founded in 2020 as an online paramo for the Argentine sound art scene, a place to congregate during the pandemic. Her work was commissioned by KunstRadio, AMEE, CA2M, MediaLab Prado (Madrid, ES), Centro Cultural Kirchner (AR), and her live performances were presented in Festival Aural (MX), Tsonami Sound Art Festival (CL), Bauhaus-Weimar Radio Art Residency (DE), among others.
Investigaciones del Futuro (IF) is a non-specific institution run by artists and architects in Villa Lynch, Buenos Aires, Argentina.
At IF we work from practice to theory, often in cooperation with other institutions, groups, and individuals. IF adapts to varied circumstances, always prioritizing the practice of socially committed artistic research in the fields of education, urban planning, construction, energy, technology, and the environment.
Our programming includes exhibitions, concerts, talks by artists, readings by writers and poets, performance art, and live radio.
We also have a carpentry shop, a radio studio, and the workspace for Biblioteca Popular Ambulante, a conceptual poetry project that works with trash and other discarded materials as language.