Wednesday 29 June
from 14:00 CEST until 12:00 noon on Thursday 30 June
Udo Noll
radio.earth – Sounding Esch
Sounding Esch aims to explore and capture the city's soundscape from various locations / perspectives, from typical sounds and iconic signals to the unheard and hidden, and transforms it into a continuous live radio show. During the broadcast and in the course of the day, the soundscapes slowly move and merge in between the selected locations, according to the city's topography and activity, and by the artist's intervention.
These sounds will be captured live on location, utilizing a number of small high quality mobile microphone units developed by the artist, which run autonomously for up to 2 days in the field. These microphones are connected to the radio aporee server and can be controlled over a remote interface. An additional channel is available for voice, narration and other sound interventions.
Further, each #mobilemic at its respective location will regularly and automatically send a recording to a dedicated project sound map on radio aporee, in order to create some sonic snapshots of the project and its places in Esch, with no further intervention needed.
Sounding Esch is related to and will focus on aspects of radio.earth, a collaborative project idea and platform about the potential and possibilities of critical listening to the crisis and hybrid landscapes of the Anthropocene, from wild nature to agricultural, urban and industrial zones.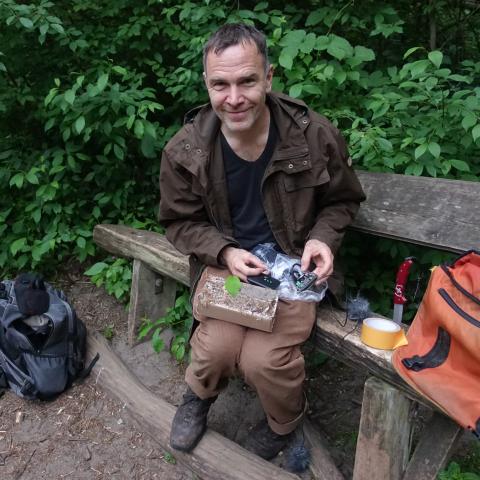 Udo Noll is a media artist and graduated as a qualified engineer for photography and media technology at the Cologne University of Applied Sciences. He lives and works in Berlin and Cologne and is the founder and developer of radio aporee, a platform for projects and practice in the areas of field recording / phonography, sound art and experimental radio. After numerous works in the field of net.art since the 1990s, e.g. Øtherlands (Documenta X 1997), Parole (Venedig Biennale 2000) und H|u|m|b|o|t (ZKM 1999-2004), Noll increasingly engages with sound in his works, esp. field recordings, audible topographies and their configurations in both real environments and digital spaces. Within this context, he created the global sound cartography radio aporee ::: maps, the miniatures for mobiles, a platform for location based sound art works in public space as well as the project radio.earth, which deals with listening practises in the context of ecological crisis. The question of relevance and potential of these works and materials for an experimental radio is also subject of current projects.