Wednesday 31 August
from 14:00 CEST until 12:00 noon on Thursday 1 September
Christina Ertl-Shirley
Salix matsudana Tortuosa
22 hours with the recalcitrant corkscrew willow
A plot of land near Berlin on which stands a half-felled corkscrew willow (Salix matsudana Tortuosa). The tree, which was many meters tall before being cut back and often attracted attention with its "curly" branches, was planted in 1974 and had to be cut down to a 90cm trunk two years ago due to city regulations. Passing walkers always mourn around this beautiful tree, but are also amused by its unruliness:
The remaining trunk sprouts again and again and countless red-green shoots grow out of it in the most diverse variations, which then must be trimmed again immediately so that no real branches form. The trimmed tree seems more active than ever and has become a favorite habitat for insects, birds and tree fungi and perhaps other species. Its sawed-off jagged branches, which have been converted to fences, are also beginning to sprout regularly.
For Radio Art Zone, this corkscrew willow becomes a sound producer itself for 22 hours, as I sonify its biological processes, and capture the sounds of its inhabitants and environment. In this soundscape, facts, anecdotes, songs, poems, dreams, and conversations around the tree interweave and become a multidimensional narrative. For this I use material from archives, realize my own willow compositions and invite musicians, people out for a walk, poets and tree experts to stay next to the tree trunk and listen to what they have to share with me inspired by the recalcitrant corkscrew willow.
22 Stunden mit der widerspenstigen Korkenzieherweide
Ein Grundstück in der Nähe von Berlin auf dem eine halb gefällte Korkenzieherweide (Salix matsudana Tortuosa) steht. Der vor der Kürzung viele Meter hohe Baum, der mit seinen "gelockten" Ästen oft Aufmerksam auf sich zog, wurde 1974 gepflanzt und musste vor zwei Jahren aufgrund von Vorschriften der Stadt bis auf einen 90cm hohen Stamm gekappt werden. Vorbeigehende Spaziergänger*innen trauern immer wieder um diesen ehemals schönen Baum, aber amüsieren sich auch über seine Widerspenstigkeit:
Der übrig geblieben Stamm, treibt er immer wieder weiter aus und es wachsen unzählige rot-grüne Triebe in verschiedensten Varianten aus ihm heraus, die dann wieder umgehend gestutzt werden müssen, damit sich keine wirklichen Äste bilden. Der ges tutzte Baum scheint aktiver denn je und hat sich zu einem beliebten Lebensraum für Insekten, Vögel und Baumpilze und vielleicht auch andere Artenentwickelt. Seine abgesägten gezackten Äste, die zu Zäunen umfunktioniert wurden, beginnen auch regelmäßig zu sprießen.
Für Radio Art Zone wird diese Korkenzieherweide 22 Stunden selber zur Klangerzeugerin, indem ich ihre biologischen Prozesse sonifiziere, und ich die Geräusche seiner Bewohner und Umgebung einfange. In diesem Soundscape verweben sich Fakten, Anekdoten, Songs, Gedichte, Träume und Gespräche rundum den Baum und werden zu einer mehrdimensionalen Erzählung. Dazu verwende ich sowohl Material aus Archiven, realisiere eigene Weiden-Kompositionen und lade Musikerinnen, Spaziergängerinnen, Dichterinnen und Baumexpertinnen dazu ein, neben dem Baumstamm zu verweilen und höre zu, was sie mir, inspiriert von der widerpenstigen Korkenzieherweide, mitzuteilen haben.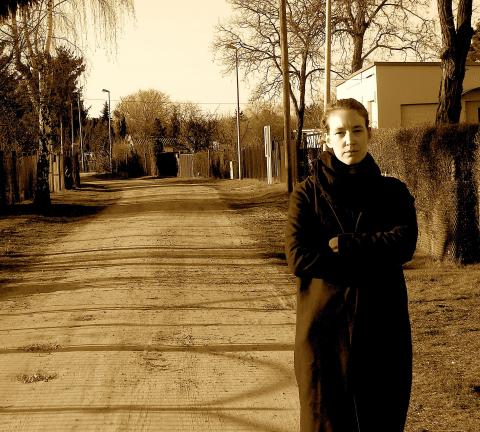 Christina Ertl-Shirley creates audio*visual narratives in the form of sound installations, radio plays, drawings, radio features, short stories, and compositions (based on field recordings and analog synthesizers). She sees her works as transmedia explorations with experimental approaches to the sharing of knowledge. She is particularly concerned with the interweaving of nature, art, and technology, immersing herself in the respective microcosms, such as the world of the animal "paper nautilus", the cultural history of the elevator, the environment of wooden beetles in the Berlin forest or the discipline of moss research. The starting point for her work is traveling these niches through scientific, historical, and subjective material. She draws on the suggestive possibilities of these elements and comments on them through her own acoustic, visual and haptic investigations, realizing artistic narratives from them.
Christina Ertl-Shirley kreiert audio*visuelle Erzählungen in Form vonKlanginstallationen, Hörspielen, Zeichnungen, Radiofeatures, Kurzgeschichten undKompositionen (auf der Basis von Fieldrecordings und analogen Synthesizern). Siesieht ihre Arbeiten alstransmediale Forschungen mit experimentellen Ansätzen zurWissensvermittlung. Dabei beschäftigt sie sich besonders mit der Verschränkungvon Natur, Kunst und Technik und taucht dazu in die jeweiligen Mikrokosmen ein,wie zum Beispiel in die Welt des Tieres"Papiernautilus", die Kulturgeschichte desFahrstuhls, die Umgebung von Holzkäfern im Berliner Forst oder die Disziplin der Moosforschung. Ausgangspunkt für ihre Arbeiten ist das Bereisen dieser Nischendurch wissenschaftliches, historisches und subjektives Material. Sie schöpft aus densuggestiven Möglichkeiten dieser Elemente und kommentiert sie durch eigeneakustische, visuelle und haptische Untersuchungen und realisiert darauskünstlerische Narrationen.