Radio Art Zone Newsletter: Week 15
Dear listeners, thank you!
Thank you for being our global ear, for giving your attention to the 200 radio artists and radio chefs that created Radio Art Zone.
Stick with us for the last weekend which includes live performances by the anonymous collective Шшш [Shhhh] today and by the French radio artist Julia Drouhin on Saturday. For the Radio Art Zone Finale on Sunday the legendary Japanese musician Otomo Yoshihide will perform a live concert in the Bridderhaus Apdikt in Esch-sur-Alzette starting at 21:00.
Behind the scenes we are already working on making the Radio Art Zone audio archive available (soon) and put together a book (later) which takes the proceedings of these 100 days of unparalleled broadcasting as a starting point to illustrate the world of radio art.
Stay tuned and spread the word - one last time!
With an exorcism of airwaves, Шшш [pronounced Shhhh] will do one of two things for our listeners, depending on their fundamental predisposition. Those bearing a burden of unreasonable shame will be liberated, while this shame released will be reassigned to shameless oppressors the world over. This live broadcast is open to the public!
more info…
Julia Drouhin
Radio Apothecary
As the conclusion of a one month residency at Radio Art Zone, extraordinary sound artist and otherworldly performer Julia Drouhin explores the feminist nature of electromagnetic activities through ritualistic research of fluid, sonic and social waves. This live broadcast is open to the public!
more info…
Jörg Köppl
zellen-silben (a dreaming machine)
This algorithmic composition by Swiss sound artist Jörg Köppl could be the only content ever needed for a radio station. Behaving like an organic life form it offers the listener sound poetry in six different languages (including Luxembourgish) in an acoustic landscape that never repeats itself. This installation will be interrupted in the evening for a live performance by legendary Japanese musician Otomo Yoshihide!
more info…
---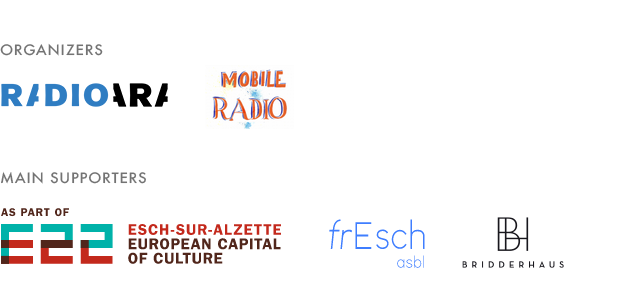 ---