Radio Art Zone Newsletter: Week 10
Dear listeners!
Today we enter our third month of broadcasting, and a few curious minds have already suggested that we simply carry on after our designated 100 days. This is an entertaining thought experiment, and reminds us that Radio Art Zone was originally conceived to last for an entire year. Our dedicated team however will be grateful for a well-deserved rest come the end of September!
In the coming week we are looking forward to live streams arriving from Modulation in the Pyrenees, and all over the world via the Rural Development network. There will also be mammoth compositions from our first month-long artist in residence Erwin Stache, plus both of London's elusive plunderphonic geniuses Lepke B and Xentos Fray Bentos, and in-depth explorations of inner, outer and urban spaces from Glasgow to Lagos and beyond from Nichola Scrutton and Ayọ̀ Akínwándé.
As always you can find our on air programme for next week below, starting from tomorrow. Catch it while you can, as we will not be broadcasting (at least on earth) for eternity! Luckily there is still the online archive to look forward to.
Stay tuned – and spread the word.
Julien Clauss & Emma Loriaut
Modulation
Julien Clauss & Emma Loriaut send this year's edition of Modulation live from the Pyrenees, where participants produce experimental music, sound poetry, radio art, and anything else that can fit into a mixer or a microphone to portable radios brought by the visiting public into the vicinity of a small mountaintop transmitter.
more info…
Erwin Stache
Ich höre Stimmen – irgendwo / I hear voices – somewhere
Erwin Stache takes over the algorithms of some of his existing sound installations such as string box matrix, ground socket organ, and time and sound which he will play in real time to create an acoustic summary of 22 works. Moments of sound turn into a meditative listening experience – each hour starts quickly and ends slowly.
more info…
Nichola Scrutton
Dream Stream
Award-winning composer and sound artist Nichola Scrutton weaves together field recordings, voice, fragments of text, visualisations, stories, performance, archive materials and collaborative productions in a sonic contemplation of inner/outer landscapes, producing a transient dream-like encounter based upon the flowing of water.
more info…
Lepke B is the missing dimension in the world of matter and anti-matter. In this unputdownable mega voyage around the krevices of time, gleefully spilling all over the space, his killer kut-up kollaging processes koalesce around the letter K. We forever entrust him to kut the krap!
more info…
Herded together by indefatigable initiator Givan Bela, artists from Tokyo, the Baltic sea, Kerminy, Karlsruhe, Hranice, Gdansk, Den Haag, Brussels, Bratislava, Berlin and beyond band together as Rural Development, performing live outdoors and off-grid through field recordings, open mics, DIY instruments and walking.
more info…
Ayọ̀ Akínwándé
Observation is Not a Crime
Interdisciplinary artist Ayọ̀ Akínwándé is interested in how the vibrations of urban spaces are sonically sculpted, and how the line between noise and sound is constantly shifting. The definition of 'relevant music' and 'irrelevant noise' today depends on the listener in question, being either a participant or an observer, a guest or a resident.
more info…
Xentos Fray Bentos
Dream Home
Pull up a stool. Or a seven-legged chair. You're just in time. The year is 2122 – the year of culture, exactly one hundred years beyond your immediate future. First of all, as an ignorant 21st Centurion, you are going to require some definitions if you wish to navigate through the Dream Home guide of expert futurologist Xentos Fray Bentos.
more info…
---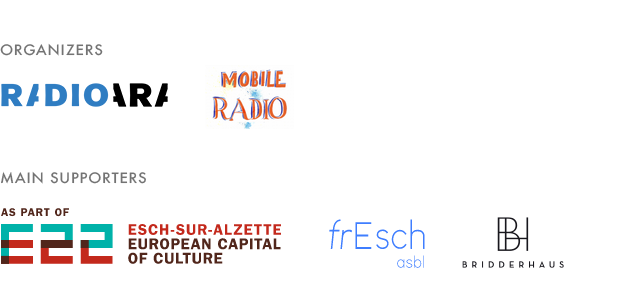 ---