Radio Art Zone Newsletter: Week 5
Dear listeners!
Here is the programme for next week, starting from tomorrow. If you are looking for visual stimuli to go with the radio, please visit our archive page for more photos from the "À table!" shows or watch the new videos on our Youtube channel. And don't forget:
Stay tuned – and spread the word!
Jean-Daniel Lafontant (Temple Na-Ri-VéH)
Jean-Daniel Lafontant and Badji members of the Sacred Temple Na-Ri-VéH 777 contribute to the preservation of Vodou's religious and cultural heritage. Here they present some highlights of various traditions and events such as a funeral, the Easter Rara procession, an agricultural protection rite, and activities in the temple.
more info…
Leandro Nerefuh & Caetano & Libidiunga
CLÓVIS HORIZON - buraco da minhoca
Leandro Nerefuh & Caetano & Libidiunga lure us into trance as CLOVIS interstellar entities. The CLOVIS are Solar Worshippers and Guardians of the Sun, travelling far and wide across the universe including the earth, which they have been visiting for millennia. This live performance is open to the public!
more info…
Günter Reznicek
Das Gelbe vom Pirol
An ornithological journey through the head of Günter Reznicek in 11 chapters: Zri-zri-zrütt, hiit, track, bsrü / Kikiki kü-kü-kü-kü kö, tjk tjk tjk / Hup hup hup, tscherr, schäär / Kuu-li, kuui-kui-kuh, oot oüt trru-i trrru-il trrrrru-il trrrru-ühl / Ühlp, errrr, lu lu lü lü li li, ihp ihp / Tjok tjok tjok tjok tjok tjok tjok tjok... etc.!
more info…
"2 : 1" brings together two longtime occupations of Knut Aufermann: the setting up of live sound installations that utilise radio feedback to create a continuously shifting sound, and the joy of playing the traditional German card game Skat. If all goes well, both will happen simultaneously in the Radio Art Zone studio.
more info…
Interdisciplinary artist Cheuk Wing Nam reflects the strange and contradictory phenomenon of a silent metropolis. During the lockdowns and isolation caused by COVID-19, Hong Kong became a silent place. Is a city recognisable any more from its soundscape? What even is a city, if not for the hustle and bustle?
more info…
Claire Serres
The Waves Choir
Vocalist and performer Claire Serres brings voices together to create choralité, as a practice without repertoire or vocal hierarchy, but through improvised singing in relation to breath and gesture, listening to others and to ourselves. The Waves Choir illuminates this process in its vocal, social and emotional dimensions.
more info…
RESONANT SOUTH
SUR RESONANTE
Fabiano Kueva curates a 22-hour sound body from the work of 8 Central and South American artists based on environmental political listening, radical soundscaping, pre/during/post pandemic tones, the archive of voices, oral memory, and traditional music, proposing a diverse sound palette in aesthetics and reflections.
more info…
---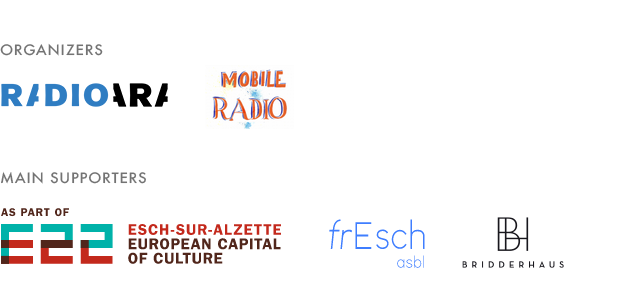 ---