Radio Art Zone Newsletter: Week 14
Dear listeners!
The coming final full week of broadcasting in the Radio Art Zone features three live performances that can be witnessed in our radio studio. Tomorrow from 2pm the bauhaus. fm-Rundfunkorchester is in session and on Monday Marold Langer-Philippsen's RADIOTERRESTRICA will land on our planet. Both have adopted an open door policy: you can visit at any time during these 22 hour long shows. On Friday there will be a specially created ritual performed by an anonymous group which will take place in the evening.
Following on from all this, the extraordinary last weekend of Radio Art Zone will continue to surprise with two more live performances, including the culmination of the work of our second month-long resident Julia Drouhin, and a rare performance by master noisician Otomo Yoshihide on the closing day – but that's for the final newsletter of our 100-day broadcast next Friday...
As always you can find our on-air programme for next week below, starting from tomorrow.
Stay tuned and spread the word. We are still picking up fascinated new listeners even at this stage of the game!
bauhaus.fm-Rundfunkorchester
The bauhaus.fm-Rundfunkorchester consists of activists of their experimental radio station, alumni of the Bauhaus University Weimar and friends. The collaborative instrument Funkstern plus, developed with the artist Steffen Koritzsch, lets the group itself become a radio station. It invites the audience to participate by using their own radio receivers. This live broadcast is open to the public!
more info…
Prague luminary Miloš Vojtěchovský gathers together a flow of recordings, exposing the variety of languages and dialects, some languages still living, some already moribund, some absorbed by English, including recordings of vocalisations of animals, which are included in the human soundscapes.
more info…
Marold Langer-Philippsen
RADIOTERRESTRICA
Marold Langer-Philippsen receives signals from Earth on a newly discovered type of star in the centre of the Milky Way, and sends a radio mobile on a journey to Earth, where it lands in Europe – an entity of nearly 50 states with almost as many languages, many more dialects, and a variety of sounds that seems hitherto unknown on other stars. This live broadcast is open to the public!
more info…
Julia Lee Barclay-Morton & Viv Corringham
Shadow/Text or Here Nothing Ends
Julia Lee Barclay-Morton and Viv Corringham interweave experiments in finding ways in and through a body of texts, memory, place, and voice, while responding to each other and place with deep listening. They have also included the discussions about how to create this sound-text-scape. Welcome to backstage!
more info…
Florencia Curci & Investigaciones del Futuro
Karukinka
Florencia Curci broadcasts live a 22-hour campfire, lit somewhere in Argentina. An installation of FM radios play field recordings, songs and stories in a live radio choreography, scripted by fire, that cannot be rehearsed as it can only be realised in the moment. Maybe some friends will come by with the things that fire brings together.
more info…
Michal Kindernay & Magdaléna Manderlová
Kozmic Sounds
Michal Kindernay and Magdaléna Manderlová investigate the transformed sonic landscape of Kozmic meadows – a system of floodplains in the Opava region of the Czech Republic. They walk, talk, and listen together with local experts, ornithologists, musicians, artists, friends, wanderers, birds, animals, insects, and other sensitive beings.
more info…
With an exorcism of airwaves, Шшш [pronounced Shhhh] will do one of two things for our listeners, depending on their fundamental predisposition. Those bearing a burden of unreasonable shame will be liberated, while this shame released will be reassigned to shameless oppressors the world over. This live broadcast is open to the public!
more info…
---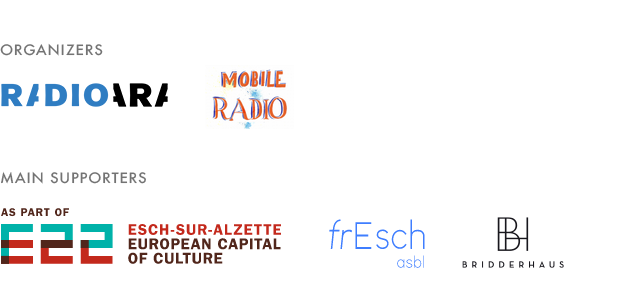 ---