Radio Art Zone Newsletter: Week 3
Dear listeners!
Here is the schedule of artists for the upcoming week, starting from tomorrow. We hope that you have enjoyed our programme so far. Radio Art Zone not only sounds different every day, but also tastes different – if you would like to see photos of our daily lunchtime kitchen shows please visit our archive. You can find more information on Radio Art Zone on our about page.
Stay tuned – and spread the word!
Richtung22
D'Ried vun der helleger Barbara (St. Barbaras speech)
The Luxembourgish art collective Richtung22 don't mince their words. For their radio marathon they hand over the mic to local citizen Barbara who will vent her anger at the gentrification of Esch while hoping to beat Fidel Castro's entry to the book of world records for the longest rant. This live performance is open to the public!
more info…
Lisbon based sound artist and label boss Paulo Raposo has assembled an enigmatic field-recording opera with the help of two dozen contributors from the lusophone world and beyond, serving up a radiophonic buffet for the large group of Esch inhabitants that speak Portuguese as their mother tongue. And everybody else too.
more info…
Angel Nevarez & Valerie Tevere
The War of the Worlds Extended Wavelength
H.G. Wells' novel The War of the Worlds and it's eponymous radio adaptation by Orson Wells is the starting point for New York based researchers and radio activists Angel Nevarez and Valerie Tevere, treating it like an electromagnetic dough that has risen in time and space for over 80 years by now. Broadcast on Independence Day.
more info…
Absolute Value of Noise
The Talking Tree
Peter Courtemanche, under his moniker Absolute Value of Noise, is a doyen of long-form radio art based in Vancouver. For Radio Art Zone he combines distinct sound sources such as wind, flutes, frogs and his signature bio-electric synths into a world inspired by the life of trees.
more info…
Billy Roisz & dieb13
global siesta
Hunkered down in their Sperrmuecc studio in Vienna, Billy Roisz and dieb13 make sure that time stands still for 22 hours, by remixing any available live sources coming from places in timezones between 2 and 3 pm as they perform. An audible trip around the afternoon world, punctuated by a date change.
more info…
Haco & Tarnovski
Kagero Dial
This track by Japanese-Czech songsmith duo Haco & Tarnovski has turned out a bit longer than usual. Their long-distance collaboration is based around a haunting leitmotiv played on a wooden music box. The resulting trip could be classified as bedtime music for baby sloths or ASMR for retired spies.
more info…
After having sailed the seven seas, environmental arts impressario David Buckland turns his attention to water closer to home – the chalk stream flowing right outside of his Dorset studio. Expect underwater recordings, scientific updates, poetry and river themed popular music to lighten the mood.
more info…
---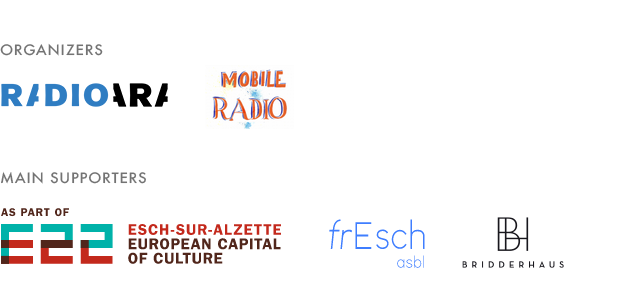 ---