Radio Art Zone Newsletter: Week 4
Dear listeners!
Radio Art Zone is three weeks old now. Below you can find the schedule of artists for the upcoming week, starting from tomorrow. An article in today's newspaper d'Letzebuerger Land states: "La Radio Art Zone est bien différente de la radio dont nous avons l'habitude." We will keep it like that.
Stay tuned – and spread the word!
Rodrigo Ríos Zunino
Lifewave : The Infinite Feedback Loop That I Am
Live from Chile, Rodrigo Ríos Zunino and collaborators perform a radio ritual of sonic, poetic, biological, and para-functional feedback between artists, scientists, mystics, earth-beings, and aliens to delve into the everlasting questions that surround the unfathomable mystery of Life, Breath and Sound.
more info…
Radio art instigator Mark Vernon turns his forensic attention to time itself – deconstructing and reconstituting hours and minutes by immersing us in the polyrhythms of clock workshops, constructing a giant collection of self-created seconds, and asks horologists: "How does your occupation affect your perception of time?"
more info…
Karim Aït-Gacem
Radio Parloir
Karim Aït-Gacem invites the inmates of Lantin prison to create radio fiction. During the sessions, convicts invent characters, giving them objectives and obstacles. The process allows them to hold up a mirror. They tell us about themselves, their life in prison, the one they had before, and about the one that awaits them afterwards.
more info…
Chris Cutler
INSIDE BROADCAST
A Day in Other People's Ears
Eminent musician Chris Cutler asked people to record, in real time and unedited, five to twenty minutes of their lives – at work, in an environment they would like to share – on the principle that, divorced from the other senses and unfiltered by goals and expectations, the sounds of everyday life engage us by default.
more info…
Anne-Laure Sotin & Izabela Matoš
Sound weavers
Sound and visual artists Anne-Laure Sotin and Izabela Matoš weave their voices, recordings and creations together with those of Sarah Clénet, Anne-Line Drocourt, Isabelle Duthoit, Erell Latimier, Soizic Lebrat, Sylvie Noël, Yuko Oshima, Aude Rabillon, Claire Veysset, Rosa Parlato... from all along the river Loire. Cette émission est majoritairement en français.
more info…
Radio art pioneer Anna Friz performs a live radiophonic composition, spanning day and night by listening and responding to signals gathered within the long slender fog zone between Santa Cruz and Jenner on the northern California coast. Public welcome to drop in at the Bridderhaus Apdikt!
more info…
Frauke Berg & Oliver Gather
Eternal Slide Show
Prime movers of the Düsseldorf scene Frauke Berg & Oliver Gather liberate Grandpa J's archive of several thousand photographic slides. Over 50 years of memories of his wife, travels, the children growing up. Will these traces of family life end up in the rubbish or be preserved? We accompany him on another, perhaps final, slide show.
more info…
---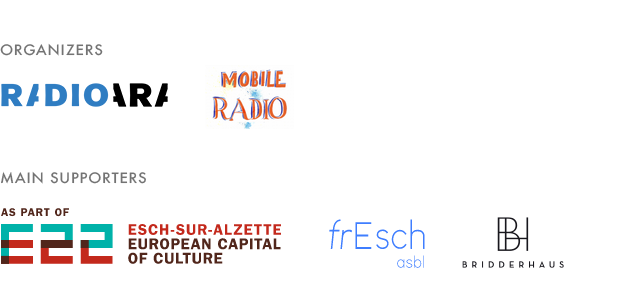 ---