Radio Art Zone Newsletter: Week 6
Dear listeners!
From today Radio Art Zone is also a physical exhibition space. Our longterm resident, the German composer and installation artist Erwin Stache, is showing for the first time his complete works with vacuum tubes. You can visit his playful take on the radio's "Magic Eye" at the nerve centre of Radio Art Zone: the Bridderhaus.
Below is the on air programme for next week, starting from tomorrow. 
Stay tuned – and spread the word!
Luxembourg Amateur Radio Union
Special Event Station LX22RAZ
The Special Event Station LX22RAZ is an amateur radio station operating over 22 hours especially for Radio Art Zone. Members of the Luxembourg Amateur Radio Union give us a glimpse into their world of unique soundscapes from all over the ham radio world using a variety of communication modes. This live broadcast is open to the public!
more info…
Echo Roe
Sounds Like Teen Spirit Radio
Echo Roe was born into radio, and here she presents a conceptual time capsule of American teenage life in the present day. Using a snapshot of the American Top 40 list of most popular songs as a reference, she creates an unrecognizable, yet strangely familiar sound-bed for field recordings from significant events in her daily life.
more info…
Renata Roman
Lugares que atravessamos, lugares que nos atravessam
Brazilian sound art pioneer Renata Roman presents places visited in Latin America: Brazil, Cuba, Argentina and Uruguay. Places as bridges. Places to be. Places to escape. Places where listening was everything. Places to forget. Places of waiting, arrivals and departures. Places of subjective and lingering storms...
more info…
Maia Urstad
TRAIN TABLES AND RADIO WAVES – a 22-hour journey by ear
Maia Urstad typically creates unique spatial sound installations. Here with a sound composition transmitted over the airwaves she follows train schedules in "real time" from one destination to another across the globe. Listeners are invited to embark on a journey along the railway line from station to station, country to country.
more info…
Chris Weaver & Adam Bohman
Rushy Green Tape Exchange
Once Chris Weaver was drawn into a talking tape exchange with cult musician Adam Bohman there was no going back. For five years they have kept a correspondence using cassettes mailed to each through the post, documenting their daily lives. This special series for Radio Art Zone is an array of talking tapes, audio diaries and sound letters.
more info…
Saša Spačal
Anatomy of a Symbiosis
Saša Spačal explores the fragility of the symbiotic bond between the soil bacteria Rhizobium trifolii and red clover Trifolium pratense in industrial food production. In a 22-hour sonic close-up she focuses on this union which sustains the lives of both plant and bacteria, and enriches soil to sustain a plethora of beings on this planet, including humans.
more info…
Élodie Brochier
RONDE SAUVAGE
Des Antipodes aux Antipodes
Actor, puppeteer and musician Élodie Brochier echos an artistic, scientific, intellectual and existential adventure, proposing that you turn your most intimate ears to a remote corner of Lorraine: Bataville. Since 2014, a singular collective experience has been invented – la fabrique autonome des acteurs (the autonomous factory of actors).
more info…
---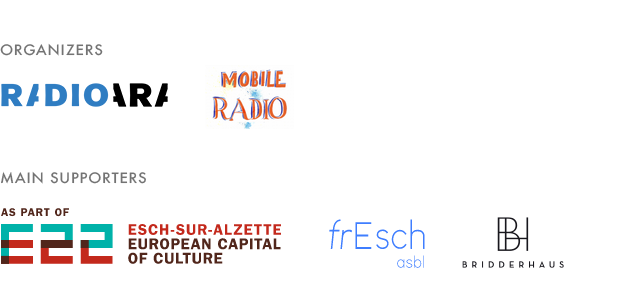 ---