Radio Art Zone Newsletter: Week 8
Dear listeners!
This weekend is the halfway point for Radio Art Zone. Time for some international radio news. Throughout August ORF Kunstradio in Austria is broadcasting half-hour long digests of Radio Art Zone shows in their Sunday evening slot. Meanwhile our friends at London's best radio station Resonance FM are devoting the whole month to us. The German public broadcaster Deutschlandfunk Kultur says that "Radio Art Zone is indulgent abundance and imposition at the same time."  
In this spirit, below you can find our on air programme for next week, starting from tomorrow. 
Stay tuned – and spread the word!
Mega Mingiedi & Jaguar Ntumi
Radio Bala-Bala
There are times in life you have to let go and follow your instincts, listen to your inner self… when you have to get out of the realm of reality, to reinvent stories... Mega Mingiedi and Jaguar Ntumi invite the people of Kinshasa and other participants to talk about the city, their experiences and their lives. These gestures support the idea of being free.
more info…
Otomo Yoshihide
Chronological Archive (1975-2022) including many unreleased recordings
From his home recordings made in 1975 when he was 16 years old to the recordings made in 2022 for this broadcast, this 22-hour program will cover 47 years of Otomo Yoshihide's performances and recordings, in chronological order, with commentary by Otomo himself. To close Radio Art Zone he will perform live in Esch on 25th September.
more info…
Tape-beatles co-founder, editor, publisher and epic traveller Lloyd Dunn ( nula.cc ) takes us on a poetic journey of imaginings across landscapes vast and distant. Made up of field recordings and found material – from the unexpected sounds of grasslands to short wave cicadas, his heartfelt narration leads us into dreaming.
more info…
Edyta Jarząb
22 Major Arcana of Fungi
Edyta Jarząb imagines mushrooms as signs, like cards drawn from a Tarot pack to uncover transformative powers, journeys of discovery, and endless potentialities. Participating artists interpret the cards through fungal sounds and initiation into personal secrets in the forest, while listening, singing, and mushroom picking.
more info…
Olivia Bradley-Skill
Ceremonies For A Commuter
Playing on the idea of a soundwalk, radio DJ, sound designer, and experimentalist Olivia Bradley-Skill records her daily 30 minute route to work at freeform radio station WFMU. The broadcast meditates on 3 main themes: what it means to record, walking as an activity, and finding creativity in the mundane realities of daily life.
more info…
Skylark is a full time FM radio station, broadcasting across Dartmoor National Park in South West England. It has no programmes, but plays a continuous, generated piece of local voices and noises. Skylark director Lucinda Guy creates a new version of its soundscape for Radio Art Zone
more info…
Shortwave Collective
Constellations of Listening
At the height of the 2022 Perseids meteor shower, Shortwave Collective cycle through group and solo listening experiences from Austria, France, Greece, Germany, the UK and US, searching live for radio reception with Open Wave-Receivers, scanning VHF, VLF, SDR, EM and walkie-talkie signals during 'grey-line' times of dusk and dawn.
more info…
---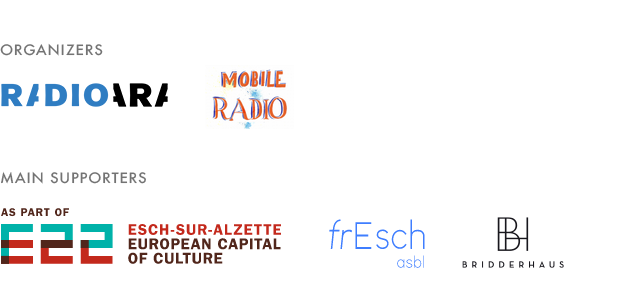 ---