Radio Art Zone Newsletter: Week 9
Dear listeners!
The upcoming week's schedule features three 22-hour-long live broadcasts by radio artists from our studio in Esch-sur-Alzette: on Sunday, Wednesday and Friday. They are open to the public, so if you are nearby please drop in and say hello. Below you can find our on air programme for next week, starting from tomorrow.
Recently we have been getting queries about the possibility to listen to past Radio Art Zone shows. We will publish a complete archive of all 22-hour-long shows for replay on our website after the broadcast period has ended on 25th September. 
Until then, stay tuned – and spread the word!
Pipa Musical
Sound-pleasant ramblings in terra brasilis
Radio art collective Pipa Musical use the language of radio with humour, in critical opposition to commercial radios and to any established order. Here they present an impressive array of artists from their circles of sound art, experimental music and sonic research in São Paulo.
more info…
Jogi Hofmüller
Satellite Concert
Jogi Hofmüller performs a live sonification of every satellite whose radio signal could theoretically be received from Esch during his 22 hour show. Together all the satellites form an invisible orchestra, each playing their part for the few minutes it takes them to cross the sky above us before fading away again. This live performance is open to the public!
more info…
Therapeutische Hörgruppe Köln
Squelch 'n' Squirrel
The therapeutical listening group Cologne offers us a sound installation that was recorded in situ with a plethora of different microphones, that slowly shift the position of the listener in a real acoustic space. The content draws inspiration from a shadowy part of radio history: number stations. Hobby-cryptologists can expect to find a hidden meaning.
more info…
Felix Kubin
The Speaking Clock
A man on a mission - Mr. Kubin revives the Speaking clock! Follow Felix around his hometown Hamburg while he attempts to announce the time every minute. There's no guarantee for chronological accuracy but tuning in today will change your idea of radio. For full immersion listen on headphones. Sendung auf deutsch.
more info…
Reni Hofmüller mounts sensors in Esch to measure radiation, temperature, humidity and fine dust. These provide live data streams which are directly converted into sound or trigger compositions, light and volume controls. The material environment will become audible to our limited human senses in this live performance which is open to the public!
more info…
60 Secondes Radio
UNE RÉTROSPECTIVE 2015-2022
60 Secondes Radio is a Canadian contest for short form radio art that started in 2015. Artists from around the world have been sending in works that last exactly one minute. As it happens the overall length of all contributions is close to 22 hours, so our format becomes a complete retrospective. Kudos to head honcho Boris Chassagne for the marathon back announcements.
more info…
Nina Guo & Augustė Vickunaitė
Nina and Augustė Radio
Nina Guo & Augustė Vickunaitė will perform 3 live sets for voice and tape recorders during their show, which is otherwise based on recordings never intended for public consumption. These have been crafted into a series of named Hours: Golden, Blue, Witching, Behaviour, Outsiders etc., to capture the moods uncovered in the archive. This live performance is open to the public!
more info…
---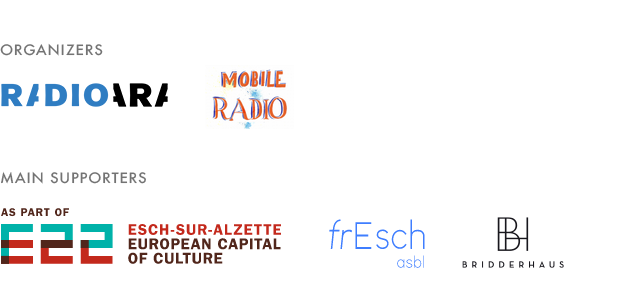 ---