Radio Art Zone Newsletter: Week 1
Dear listeners!
Five years in the making, Radio Art Zone goes on air at midnight tonight on 87.8 FM, covering Esch-sur-Alzette and the south of Luxembourg. For those of you listening online the webstream is already active, go to radioart.zone and press the play button!
We are offering you 100 days of radio art by 100 artists and groups who are producing amazing works specifically for Radio Art Zone. Each create a 22 hour long show which starts at 2pm CEST; you will find short descriptions for the first week's schedule below. From 12 noon until 2pm each day we invite you to listen to "À table!" – an auditory window into local kitchens with the sounds and chatter of an everyday lunchtime.
If you live in the area, feel free to drop by at our radio studio at the Bridderhaus Apdikt, 1 Rue Léon Metz in Esch-sur-Alzette on 18th June from 4pm until midnight for our launch party.
We are indebted to a roster of fantastic radio stations around the globe who are rebroadcasting small or large parts of our programme: Resonance FM, Resonance Extra, Soundart Radio, WGXC-90.7 FM, Kunstradio, Jet FM, ∏node, Radio Tsonami, Radio Panik, lumbung Radio, Kanal K, Colaboradio & Wüste Welle.
Radio Art Zone is a joint project by the Luxembourg community station Radio ARA and the artist duo Mobile Radio (Sarah Washington and Knut Aufermann), broadcasting for 100 days from 18th June to 25th September 2022 as part of the European Capital of Culture Esch2022.
Jörg Köppl
zellen-silben (a dreaming machine)
This algorithmic composition by Swiss sound artist Jörg Köppl could be the only content ever needed for a radio station. Behaving like an organic life form it offers the listener sound poetry in six different languages (including Luxembourgish) in an acoustic landscape that never repeats itself. This installation will be interrupted in the evening for a live performance by legendary Japanese musician Otomo Yoshihide!
more info…
Just as our Radio Art Zone studio opens its doors it will be occupied by Andy Armstrong, an American living in France who came to us out of the blue. He will bring a carload of instruments and cassettes and create the sound track for our opening party and beyond. This live performance is open to the public!
more info…
Manja Ristić
Radio Astral
Radio Astral is the work of multi-disciplinary artist and Croatian island dweller Manja Ristić. She takes us on a journey that meanders effortlessly between abstract and concrete sound worlds. Whether you are awake or asleep this transmission will take you onto a higher plane. Hosted by humpback whales.
more info…
Konsthall323 is a gallery that doubles up as a car. Or is it the other way around? Artist-drivers Ylva Trapp and Frida Krohn will steer Konsthall323 from Stockholm to Esch and present their findings from this journey. During their midsummer night broadcast they will pop up at strategic car parks across town for impromptu public encounters. This live performance is open to the public!
more info…
Darius Čiuta is an architect and conceptual sound artist based in Kaunas, Lithuania, co-European Capital of Culture in 2022. For Radio Art Zone he delves into the world of software-defined radio (SDR), where the whole spectrum of electromagnetic waves can be made audible. His SDR recordings then become the seed for musical notation.
more info…
The Society for Nontrivial Pursuits (S4NTP)
FutureVoices presents: Polyglot Futures
Students and teachers from Berlin University of the Arts turn their generative Future Voices radio stream into a special live broadcast for Radio Art Zone. Multi-lingual sound bites from Esch mingle with those already in their collection and are processed in live-coding sessions. Anyone can contribute voices to their website.
more info…
A chronological chart-sweeping opus based around the number 108 by plunderphonic maestra People Like Us. Tune in and follow our social media for a live competition – can you guess the number of hits squeezed into 22 hours? Extra prizes go to those with killer comments on tracks from the past decades of poptastic music! Your ear worms will be plump and fluffy.
more info…
Community Radio Tbilisi Collective
The Insider
Follow a mono microphone like a torchlight through the capital of Georgia, as it passes from hand to hand between the Community Radio Tbilisi Collective during an early spring day. Every now and then, between traffic, poetry and clandestine performances, a patchwork of juxtaposed scenarios opens up a stereophonic dimension of the city's soundscape.
more info…
---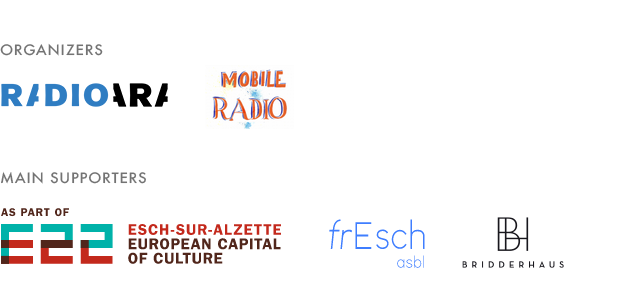 ---