Radio Art Zone Newsletter: Week 11
Dear listeners!
The last four weeks of Radio Art Zone are peppered with live broadcasts that will emanate from our studio as well as locations as far away as Germany, Hong Kong and Argentina. On 1st September we will add a new feature to our website – for one show only: you will be able to interact in a live text chat with Marie Gavois & Michel Klöfkorn who have captured more than 70 concert sound checks for their programme.
This weekend we look forward to the arrival of Julia Drouhin, our second long-term radio artist in residence. Her experiences in Esch-sur-Alzette will be distilled into potions and transmitted on our penultimate day of broadcasting as a radio apothecary.
As always you can find our on air programme for next week below, starting from tomorrow.
Stay tuned – and spread the word!
Oda Projesi
Radio Within A Radio
The artist collective Oda Projesi have been active for decades, and create mini autonomous radio channels within existing stations. For this part-live production they set up 22 people, 22 places, 22 acts, 22 strategies and 22 incidents. Their current research asks: "What does it mean to be a mother and an artist at the same time?"
more info…
Mélia Roger & Eric Larrieux
Air Listening Station
In collaboration with the Air Quality Lab from the City of Zurich, Mélia Roger & Eric Larrieux gather scientific data in order to modify field recordings from Zurich. The changes of the particulate matter (PM10), nitrogen oxides (NOX), ozone (O3) and ammonia (NH3), trigger interviews with the researchers of the lab among other sounds.
more info…
Ed Baxter
Forty Four Folk Tales
Radio art visionary Ed Baxter presents a series of sketch-like monologues which strive towards the creation of a psychological object through radio. Narrative here is secondary to an articulation of how the mind works, locale directs the traffic of mood in a digressive manner, and themes recur the way memory determines.
more info…
Claire Thill & Catherine Kontz & S.L. Grange
Desire Lines & Wou d'Uelzecht
Claire Thill & Catherine Kontz & S.L. Grange explore the theme of resistance in a radiophonic performance, with conversations relating to borders, gender fluidity, rivers and migration, musics that resist trends, categorisation, and political situations. Plus they offer us the opportunity to fall asleep and wake up with the Alzette... This live performance is open to the public!
more info…
Christina Ertl-Shirley
Salix matsudana Tortuosa
Christina Ertl-Shirley focuses on a particular half-felled corkscrew willow. Passing walkers mourn around this once-beautiful tree, but are also amused by its current state of unruliness. Its biological processes are sonified, and facts, anecdotes, songs, poems, dreams, and conversations interwoven into a multidimensional narrative.
more info…
Marie Gavois & Michel Klöfkorn
Do you hear this picture¿
Focusing microphones on specific details as if they were video cameras, Gavois and Klöfkorn carefully record more than 70 soundchecks by all kinds of bands. Picking up particular sounds – like fingers drumming on the keyboard of an organ, or a pick flicking across the strings of an unplugged electric guitar… This show will feature a participatory livechat via p-node!
more info…
In this epic plunder-composition, Buttress O'Kneel uses her breakcore-infused audiopiratical intellectronica to interrogate class, unemployment, fatigue, work/life balance, hierarchies, universal basic income, insomnia, creativity, circadian rhythms, burnout, money, nightmares, need, status, anarchy, loyalty, fungibility, value, and death.
more info…
---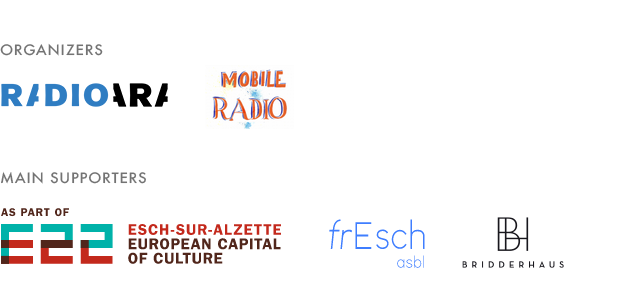 ---