Radio Art Zone Newsletter: Week 13
Dear listeners!
Today is day 84 of Radio Art Zone.
We have a our typical programme of marvelous and curious 22 hour marathon artworks to broadcast to you over the coming week, as we prepare plans for our grand finale the week after next. We are on the home straight now, so make sure you join us for the final two weeks of radio mayhem, meditation, musing and mucking about!
As always you can find our on air programme for next week below, starting from tomorrow.
Stay tuned – and spread the word!
Caroline Kraabel & John Edwards
Improvisers and Improvisations
Improv music luminaries Caroline Kraabel and John Edwards present a blend of music and life stories, featuring improvised acoustic music, electronic music and atmospheres, interviews and conversations between improvisers, and segments of live improvisation in various places around Esch-sur-Alzette. This live broadcast is open to the public!
more info…
LokaalRaadio
The Dreamer Falls Asleep
Based on the sleep cycle of the Australian Koala, LokaalRaadio create a generative modular sound machine, synthesizing a long meditative dreamscape stimulated by snippets of text and sound, not unlike the way we produce a dreamscape while asleep out of our daily reality. The artists fall in and out of dreamlike states during the making of the piece.
more info…
Daniel R. Wilson
Asphyxia: The "Idiote", the Library Wifi and the Suppressed Safe
Exemplary 'Pure Volunteer' Daniel R. Wilson constructs a damaged would-be radio documentary exploring the Narnia of restricted access material with its wedded themes of suspicion, gatekeeping, conspiracy, frustration, and the maddening infinite regress that emerges wherever information is suppressed.
more info…
Meira Asher
Sonic Voyage of Resistance
Composer, performer and Human Rights activist Meira Asher embarks on a sonic voyage of Palestinian popular resistance. Documented at some of the many locations where it has frequently manifested since the beginning of the occupation 74 years ago, the recordings were made mainly during the period of Ramadan.
more info…
D'Kréiennascht
Héiergebées mat Kréieféiss
D'Kréiennascht present their work as a Luxembourgish interdisciplinary art collective. This radio artwork consists of individual short radio plays by different members and experimental sound art pieces created together. These range from "Sounding Research" to satirical "Weltschmerz", surrealistic journeys and sonic documentaries.
more info…
Barbara Kaiser
Transitions - Stationen einer Klassenreise
Barbara Kaiser explores the situations faced when people change social class. Usually they report neither feeling at home in one world nor the other. The impressions and experiences of these class travellers determine the composition of this audible journey, based around texts from Klassenreise by Brigitte Theissl and Betina Aumair.
more info…
Ricardo iamuuri Robinson
SPF 22
Ricardo iamuuri Robinson integrates a variety of sonic landscapes to convey the journey of black skin. Using tarpaulins of aluminium foil, durable plastic and waterproof canvas to depict skin, the work also transmits voices and sounds which articulate the interplay between black skin and the fight against the forces determined to control where it shines.
more info…
---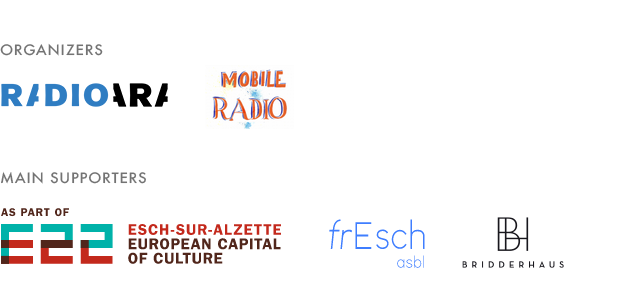 ---